| | |
| --- | --- |
| Grape | Cabernet Sauvignon |
| Style | Dry, Red, Full Bodied, Black Fruit, Oak Aging, Spice, Complex, Balanced |
| Country | Italy |
| Region | Tuscany |
| Volume | 75cl |
| ABV | 14.5% |
| Dietary | Sustainable, Practising Organic |
Cafaggio Basilica del Cortaccio Cabernet Sauvignon features aromatic notes of coffee, juicy ripe fruits, various spices and jam. Its mid-palate is energetic and vibrant, with not just blackcurrant aromas and flavours but that split-leaf herbaceousness that works so well from glorious Cabernet Sauvignon. Such a fresh, attractive scent. The nose also carries hints of cedar, spice, and blackberry, with a velvety, harmonious palate.
An excellent wine to pair with red meats and hearty sauces. Particularly suited for traditional Sunday Roast recipes featuring lamb.
Decanter Magazine: 96 Pts
Drinking Window: 2021 - 2035
"Cafaggio is first mentioned in 1408, noted at the end of that century as a property of the Benedictine monks of Siena. Nowadays, the winery produces several labels in classical Tuscan appellations, as well as IGT wines. Basilica del Cortaccio is produced from 4.2ha planted with five different clones of Cabernet Sauvignon at 355m altitude, and is farmed organically. Fermented in stainless steel then aged for 18 months in second-use French oak barriques."
Susan Hulme MW: "Lovely complex nose cedar, spice and blackberry, very smooth and harmonious palate."
Andrea Briccarello: "Clean, coffee notes, roasted and intense notes of juicy fruits, charming spices and jam."
Annette Scarfe MW: "Pure blackcurrant leaf with an energetic vibrant mid-palate – fresh and attractive."
About the Producer
Records of this cherished estate, then named 'Cahago'—which translates to 'enclosed, cultivated field'—date back to 1408, and are safely stored in the estate's archives.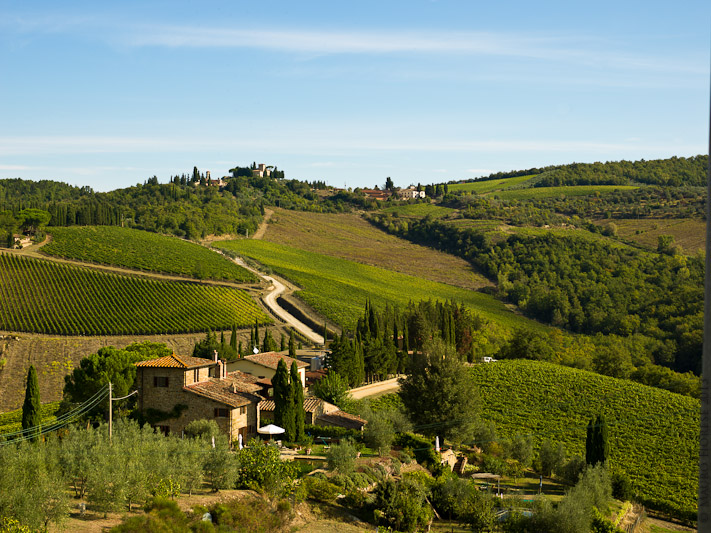 These documents suggest that in the late 15th century the property belonged to Siena's Benedictine monks, before passing to different entities such as the renowned Niccolini family from Florence. By the close of the contemporary era, Villa Cafaggio was sold to the Florentine Hospital of Santa Maria Nuova and data indicates it was then producing numerous food items, including wine and olive oil. In the 19th century, this estate was acquired by the Boddi family.
In the late 1860s, the Farkas family bought the property as a country home. However, by 1967, the estate had become so poorly maintained that the family decided to renovate the wine cellars, as well as replant the vineyards and olive groves.
Vineyard and Winery
Basilica del Cortaccio, an elite vineyard in Cafaggio, comprises 4.2 hectares of Cabernet Sauvignon, with attributes that reflect a fine 'terroir'. Produced for the first time in 1989, the Basilica del Cortaccio variety is grown according to the principles of organic farming.
Manual harvesting takes place in mid-October, with alcoholic fermentation at controlled temperatures in stainless steel tanks, with colour, tannin and flavour extraction achieved through manual pressing and pump-overs with air.  Spontaneous malolactic fermentation follows and then maturation for 18 months in French oak (Tronçais and Allier) barriques that have been used once previously (medium-toasted), and bottle-aged for six months before release to the market.
Net Orders Checkout
| | | | |
| --- | --- | --- | --- |
| | | Subtotal | £0.00 |
| | | Shipping | |
| | | Total | |
---
Shipping Address